Project 14
Changes in sleep as a measure of stress in laying hens
Project Details
Everyone knows the benefit of a good night's sleep, and how unpleasant sleep loss can feel. Animal sleep is not always well understood, but has been shown to be affected by events such as maternal deprivation and feed restriction. The aim is to investigate if sleep quality and quantity could be a novel welfare indicator in laying hens, because we know that sleep in other animals is altered by stress and that laying hens may be subjected to stressful events in their lifetime, for example brief hunger, pain, or longer-term stress through standard husbandry practices. The objectives of this project are to understand what normal and abnormal sleep look like in laying hens, and to evaluate if sleep could be a useful welfare tool by examining how it is altered by distinct acute stressors and by more subtle, long-term stressors (i.e. housing type). This will be achieved by a) measuring sleep duration and quality (as assessed by different sleep phases) in 12 hens during uninterrupted and disrupted nights' sleep. Sleep measures will come from observations of sleep behaviour (e.g. bird posture, eye(s) closed, head tucked under wing) alongside brain activity data measured by electroencephalography (EEG), which provide the most reliable measures of sleep. This will be followed by b) subjecting those hens to short-term stressors that they may experience in their lifetime, such as hunger, heat, and footpad pain. Finally, c) hens will be housed in small groups similar to commercial housing practices (i.e. on litter floors and in furnished cages) for a few months and their sleep behaviour monitored weekly, to assess if housing conditions (which are potentially stressful) alter sleep quality.
Project Update Summer 2021
What an absolute whirlwind of a year! (Dec 2020)
Since my last update, I was narrowly able to get out of Germany before the borders were closed and the first hard lockdowns began. This was followed by a lot of project preparations and paperwork for experiments that could not be scheduled due to all of the uncertainty. Finally, the PhD gods cut me a break and I was officially given a date to return to campus as well as being able to decide on an official start date with only a modest 10-week delay to my research plans. With the help of too many colleagues to name here I was able to receive my birds into their newly built pens and to begin with the first batch of experiments after a few weeks. Things kicked off on the day of my first surgery with a visit from our very own Tom Smulders, who provided invaluable oversight and advice. Unfortunately, it was shortly after this that the 'rollercoaster of despair' began. I figured there would be difficulties throughout the course of my PhD, but nothing could have prepared me for the almost comical slew of unexpected occurrences, mishaps and disasters ranging from transportation problems and technical malfunctions to my chickens not behaving the way they ought to. But having said all of that, I was able to weather every single misstep in turn through a combination of quick thinking, clever problem solving and a little help from my friends (read: supervisory team and colleagues). Currently, I am nearing the end of the experiments with my fourth batch of birds, which will unfortunately require me to work straight through the holidays (tis the tale of the PhD student!) before beginning my fifth and final batch at the end of December. I'm sure that things have been just as rocky for my fellow ChickenStress colleagues and I often wonder if we will end up labelled as the 'COVID generation' of PhD students – but perhaps that's not such a bad thing, as I think it will only serve as a badge of honour highlighting our dedication, resourcefulness and perseverance in the face of this global pandemic.
Project Update March 2020
Project Update January 2020 - On the move!
The last few months have been increasingly busy! In following up to my previous update, I successfully completed my animal experimentation license courses and am eagerly awaiting the review of my application. I also finished up my surgical protocol which is also awaiting review; this was accomplished with the help of Tom Smulders whom I visited at the University of Newcastle towards the end of November. There I was also able to briefly chat with fellow ESR Karina Santiago Gonzalez on the goings-on of her project! In December, I made my first formal presentation of my project to a group of researchers and fellow students here at SRUC, which I believe garnered quite some interest. At the moment, I am working on an intensive literature review focusing on avian sleep research and packing my bags for the first part of my secondment at the Max Planck Institute for Ornithology with Niels Rattenborg, where I will receive world-class instruction on the implantation of neurologgers in birds.
Project update from Endre October 2019: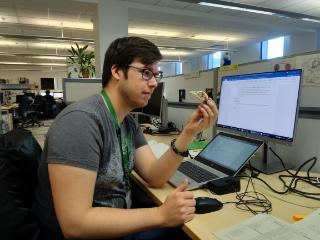 My first few weeks were spent meeting my new colleagues and team members as well as attending many induction meetings highlighting the services and facilities available to me. In addition to this I attended the World Animal Day event held here at SRUC which included several different speakers and topics revolving around animal welfare and the ethics of using animals for research; this provided some very interesting discussions for the days to follow! More recently, I have been reviewing guidelines and legislature pertaining to animal experimentation in preparation for my experimental animal license exam as well as learning more about poultry cranial- and neuroanatomy in order to design a methodology for electrode implantation into the brain, which comprises the first integral component of my project. On a lighter note, I have discovered the delights of sausage rolls and Irn Bru, the famous Scottish drink; and have learned to come to terms with all the rain!
Top